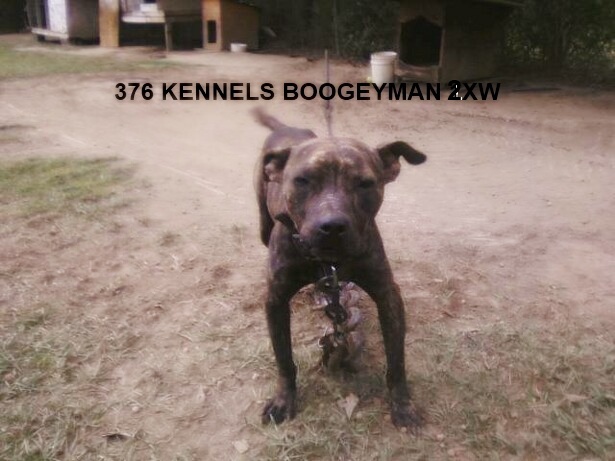 BREEDER: 376 KENNELS
OWNER: FMAN
REGISTRATION #: WORLDWIDE DOG REGISTRY
SEX: MALE
COLOR: BROWN BRINDLE
CHAINWEIGHT: 45
CONDITIONED WEIGHT: 41
POSTED: 2011-09-26
LAST MODIFIED: 2017-08-12
PEDIGREE HAS BEEN SEEN: 9099 TIMES

The producing power of Madawg & Queen is evident the two, litters coming off them so far have been all a dog man would want out of a bulldog. There son here Boogeyman was considered by dog men who have seen this freak of, nature in action to be hardest biting hog dog they ever seen. If you want a Madawg x Queen pup get it while you can..NO DOGS ARE BRED OR SOLD FOR ANY ILLEGAL ACTIVITIES. 376 KENNELS WILL NOT VIOLATE ANY PART OF THE ANIMAL WELFARE ACT OF 1976.OUR DOGS ARE BRED SOLELY FOR COMPANIONSHIP, CONFORMATION SHOWS, LEGAL HOG HUNTING, WEIGHT PULLING. ALL DOGS LISTED IN THIS SITE AS CHAMPIONS, GRAND CHAMPIONS, R.O.M., P.O.R. AND WINNERS ARE CONFORMATION SHOW WINNERS HOG HUNTING OR WEIGHT PULL DOGS ONLY!