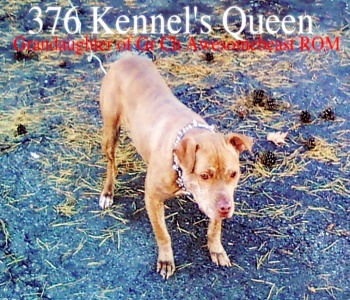 OWNER: 376 KENNELS
REGISTRATION #: WORLDWIDE DOG REGISTRY
SEX: FEMALE
CHAINWEIGHT: 36
CONDITIONED WEIGHT: 32
POSTED: 2010-10-04
LAST MODIFIED: 2015-02-24
PEDIGREE HAS BEEN SEEN: 8563 TIMES

376 Kennel's Queen R.I.P girl produced winning of spring with 376 Kennel\'s Madawg such as Boogeyman 2x, Ruthless, Angel Eyes , and several others and more to add to the production list she is a powerful granddaughter of Grand Champion Awesome Beast ROM she is producing serious dogs with 376 Kennel Madawg son of Gr Ch Yellowman ROM website http://376kennel.webs.com/ NO DOGS ARE BRED OR SOLD FOR ANY ILLEGAL ACTIVITIES. 376 KENNELS WILL NOT VIOLATE ANY PART OF THE ANIMAL WELFARE ACT OF 1976.OUR DOGS ARE BRED SOLELY FOR COMPANIONSHIP, CONFORMATION SHOWS, LEGAL HOG HUNTING, WEIGHT PULLING. ALL DOGS LISTED IN THIS SITE AS CHAMPIONS, GRAND CHAMPIONS, R.O.M., P.O.R. AND WINNERS ARE CONFORMATION SHOW WINNERS HOG HUNTING OR WEIGHT PULL DOGS ONLY!