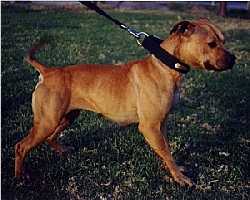 BREEDER: VISE-GRIP KENNELS
OWNER: VISE-GRIP KENNELS/LEON WILSON
SEX: FEMALE
COLOR: BUCKSKIN/BLACK NOSE
CHAINWEIGHT: 34 lb
CONDITIONED WEIGHT: 31 lb
POSTED: 2001-04-09
LAST MODIFIED: 2005-06-09
PEDIGREE HAS BEEN SEEN: 30252 TIMES

THIS BITCH WAS SIMPLY PERFECTION, FROM HER NOSE TO HER TOES. TIRELESS STAMINA, ROUGH AND TOUGH IN THE TRENCHES, AND AS GENTLE AND SWEET A DOG AS A MAN COULD ASK FOR. I WILL NEVER FORGET YOU GIRL.