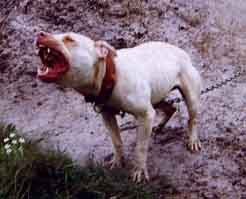 BREEDER: VISE-GRIP KENNELS
OWNER: VISE-GRIP KENNELS
SEX: FEMALE
COLOR: RED/RED NOSE
CHAINWEIGHT: 30
CONDITIONED WEIGHT: 25
POSTED: 2001-04-09
LAST MODIFIED: 2005-06-09
PEDIGREE HAS BEEN SEEN: 34312 TIMES

ONE OF THE ABSOLUTELY GAMEST BITCHES I HAVE EVER OWNED. JUST A TREASURE OF A BITCH, WITH A HEART TWICE AS BIG AS HERSELF. REST IN PEACE BABY.