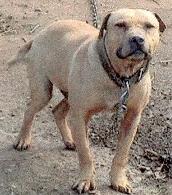 BREEDER: DUNLAVY
OWNER: RAGING BULL KENNELS OF NY
SEX: MALE
COLOR: RED
CONDITIONED WEIGHT: 51-52
POSTED: 2001-04-09
LAST MODIFIED: 2011-08-27
PEDIGREE HAS BEEN SEEN: 184677 TIMES

Sired GRCH Cleo, GRCH Gorilla Bear, Ch Bill, Ch Benny Bones, Ch Boss Hog, Ch Dante POR, Ch Deli POR, Ch Den Den, Ch Deng, Ch Humble, Ch Kare Bear, Ch Roxy, Ch Stoley, Ch Zues, XENA ROM, Chinadoll ROM, Apache POR, DaDa POR, and several 1 & 2 timers. Won 1st @51, picked up in 2nd @52 against Pup Pup. Did not beat the count on "L" shaped courtesy scratch; ran into the ref & went to the hog afterwards (could not see). All accounts are fictional.