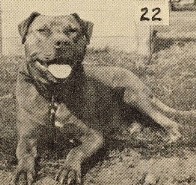 BREEDER: BOB HEMPHILL
OWNER: BUCK MC COY
REGISTRATION #: 265,924
SEX: MALE
COLOR: RED, RED NOSE
CHAINWEIGHT: 65
CONDITIONED WEIGHT: 55
BIRTHDATE: 1954-03-04
POSTED: 2010-07-16
LAST MODIFIED: 2010-07-19
PEDIGREE HAS BEEN SEEN: 1623 TIMES

Proven game. Died 1962.
This dog is found in the 3rd generation of Hemphill's Geronimo.
He is Red, Red Nose. No brindle.