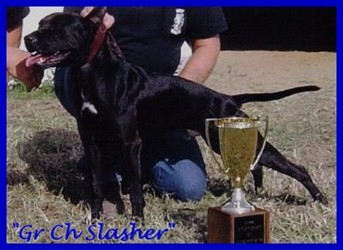 BREEDER: PORTER(CHIPS PITS) & HOK (AS STATED ON ADBA PAPERS)
OWNER: CHIPS PITS
SEX: MALE
COLOR: BLACK
POSTED: 2005-03-17
LAST MODIFIED: 2008-07-15
PEDIGREE HAS BEEN SEEN: 49746 TIMES

A bulldog, period! ADBA Conformation Gr Ch, titled at 13 Months Old. This dog was produced by a co-breeding of 2 friends, he was not from a "Stud Breeding". This one was Chip's PICK, a little nut from the get go lol!