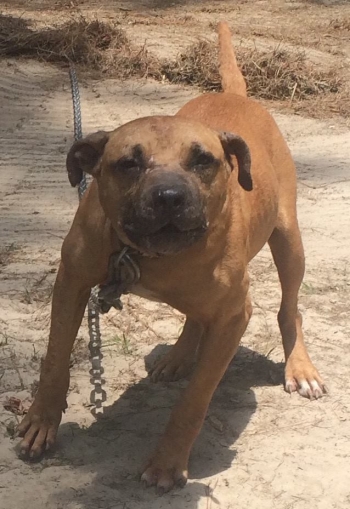 REGISTRATION #: ADBA Reg #14991AP-65
SEX: MALE
COLOR: RED W/ BLACK MASK
CHAINWEIGHT: 60
POSTED: 2016-06-10
LAST MODIFIED: 2022-02-25
PEDIGREE HAS BEEN SEEN: 21000 TIMES

This is Sykes Stone Colds true pedigree, as registered with the ADBA. Sykes operates his peds online account under his kennel name, which is fine except he also hung his kennel name in front of Stone Colds sire and dam even though those dogs were not produced by him or registered by the ADBA under his name or his kennel name. Both Shotos Brick and Shotos Mean Girl were produced and registered by Shoto. Sykes also change the name on Stone Colds mother in his peds online account, but the mothers true name is indeed "Mean Girl." Finally, he has hung "3xW" on Stone Cold, but that claim is suspect.

I do not condone nor do I wish to be associated with any fictitious clams, therefore our ped reports the truth about this dogs breeding and registration. The dogs behind Stone Cold are indeed legitimate dogs. This pedigree shows both how the dog is bred and also shows the actual registered names and ADBA# for verification. A portion of the actual ADBA paperwork is included as an image of Shotos Mean Girl (click on her name to view). There is no reason for hiding or changing any of the legitimate information in this dog other than his owner wanting to take credit for two dogs he did not produce, Brick and Mean Girl...who come from long line of RB/J/B dogs.