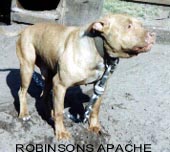 BREEDER: A ROBINSON
OWNER: A ROBINSON
REGISTRATION #: 61400D-OO
SEX: MALE
COLOR: RED-RED NOSE
CHAINWEIGHT: 50 POUNDS
BIRTHDATE: 1987-10-29
POSTED: 2001-04-09
LAST MODIFIED: 2005-03-07
PEDIGREE HAS BEEN SEEN: 52762 TIMES

A perfect example of the redboy/medlins cross. This dog produced a number of winners himself and produced many dogs that have proven to be producers themselves, one of the better Redboy/Medlins lines out there today. Thanks A.R.