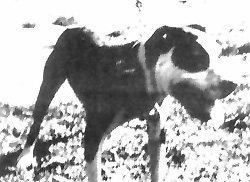 BREEDER: IRISH JERRY
OWNER: IRISH JERRY
REGISTRATION #: 11100-39
SEX: MALE
COLOR: BLACK & WHITE
CONDITIONED WEIGHT: 37-39
POSTED: 2001-04-09
LAST MODIFIED: 2004-06-16
PEDIGREE HAS BEEN SEEN: 82685 TIMES

~7XW~ The most winning son that Ch. Honeybunch ROM ever produced. This was a truly great dog that was only bred 2 times before he died at age 3 and a half. An absolute Ace. Rarely seen in a pedigree.