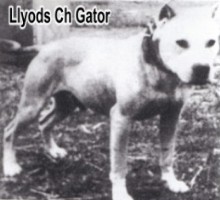 BREEDER: J.CARVER
OWNER: LLOYD
REGISTRATION #: 15500-55
SEX: MALE
POSTED: 2001-04-09
LAST MODIFIED: 2004-10-09
PEDIGREE HAS BEEN SEEN: 106868 TIMES

RICK SORRELLS AND BERT SORRELLS ARE NOT RELATED AND DO NOT SHARE THE SAME DOGS. MANY PEOPLE CONFUSE THE TWO. If you see R. Sorrells on dogs, those are Rick's dogs, not Bert's dogs which are bred differently.