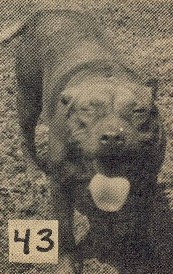 OWNER: BUCK MC COY
REGISTRATION #: 172,713
SEX: FEMALE
COLOR: RED, RED NOSE
CHAINWEIGHT: 61
BIRTHDATE: 1954-03-11
POSTED: 2010-07-16
LAST MODIFIED: 2010-07-18
PEDIGREE HAS BEEN SEEN: 2310 TIMES

Red Jacket appears in the 4th generation of Hemphill's Geronimo.
Red Jacket was 1/2 Rascal but note that she was red nose, due to the OFRN blood from her bottom side.
Also note that all of her descendants within Geronimo's ped were all red, red nose. No brindle.