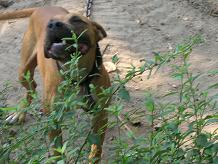 BREEDER: BERT SORRELLS'
OWNER: ALEXANDER/ SORRELLS
REGISTRATION #: ADBA
SEX: MALE
COLOR: RED
CHAINWEIGHT: 52
CONDITIONED WEIGHT: 49
POSTED: 2007-03-15
LAST MODIFIED: 2010-12-29
PEDIGREE HAS BEEN SEEN: 23978 TIMES

Excellent producer and a fine representation of a Sorrells dog.R.I.P. This dog was bought as a puppy from B.Sorrells yard by ALEXANDER KENNELS..Was raised,campaigned,and shown by ALEXANDER KENNELS....RED DOG was sold back to Bert at the age of 5 1/2 years.....Produced CH.CHARLIE, CH.RED GIRL,
Red Jack 2XW, BOSS 2XW, HABIT 1XW, TERRA 2XW, ADBA CH. Jack Daniels and many more.....With his offspring throwing the same intensity and drive into there offspring!!!!