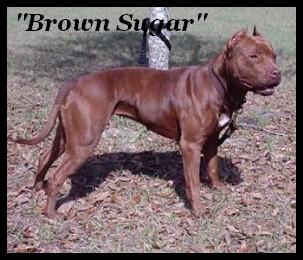 BREEDER: CSP
SEX: FEMALE
COLOR: CHOCOLATE
CONDITIONED WEIGHT: 38 LBS
BIRTHDATE: 1998-09-28
POSTED: 2007-02-18
LAST MODIFIED: 2008-10-17
PEDIGREE HAS BEEN SEEN: 2491 TIMES

If Boogieman were female, he would be her. A PROVEN BULLDOG!
After Tanya from CSP passed away March 22, 2008 this dog was given as a gift to a co-worker of Tanya's and is living her senior life as a couch dog! Sugar's former owner "LAMAR" who also passed away and why Tanya acquired the dog, I am sure is happy... because Sugar is happy and being spoiled!