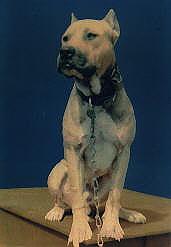 BREEDER: FRANK FITZWATER
OWNER: NORMAN HOOTEN
REGISTRATION #: 28900-24
SEX: MALE
COLOR: FAWN/BLACK MASK
CHAINWEIGHT: 62LB
CONDITIONED WEIGHT: 55-57LB
POSTED: 2001-04-09
LAST MODIFIED: 2002-12-05
PEDIGREE HAS BEEN SEEN: 196090 TIMES

A great 4XW raised and owned by the Late Norman Hooten. . His fourth win was against a dog named Sampson sired by Nigger ROM.