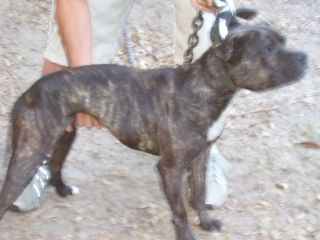 BREEDER: STEVEN JENKINS
OWNER: JOSE M.
REGISTRATION #: 1027AP-81
SEX: MALE
COLOR: BRINDLE
CHAINWEIGHT: 35
BIRTHDATE: 2000-06-12
POSTED: 2006-04-09
LAST MODIFIED: 2008-06-18
PEDIGREE HAS BEEN SEEN: 6212 TIMES

At Stud, A Good solid bulldog that has produced a great litter for us already. He is passing the right genetic traits! If the bitch is from the same lines I would consider pup deals. 954 483 8362, Jose.