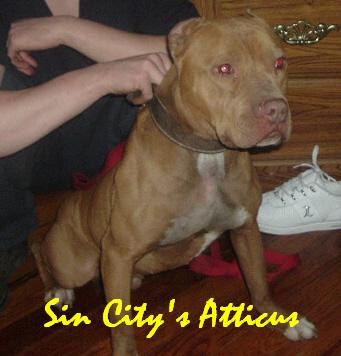 BREEDER: Sin City's Kennel
OWNER: C. & A. Burchfield
SEX: MALE
COLOR: Chocolate Rednose
CHAINWEIGHT: 55 lbs
CONDITIONED WEIGHT: 48 lbs
BIRTHDATE: 2003-06-30
POSTED: 2006-03-02
LAST MODIFIED: 2007-01-04
PEDIGREE HAS BEEN SEEN: 6267 TIMES

R.I.P. Atticus!!! We love you and are deeply missed. You were the one and only there maybe more out there of the close to or same breeding but none will ever mean more then you.