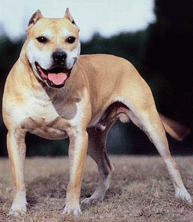 BREEDER: JOHN R. COLBY
OWNER: JOHN R. COLBY
REGISTRATION #: ADBA 28800F-90 U.K.C G677 963
SEX: MALE
COLOR: RED & WHITE
BIRTHDATE: 1992-08-31
POSTED: 2001-04-09
LAST MODIFIED: 2007-07-17
PEDIGREE HAS BEEN SEEN: 63730 TIMES

Colby's Sam and Colby's Rampage are different dogs off the same litter. So they have the same parents, users got confused and now offspring off both have been entered under one ped. Watch out!