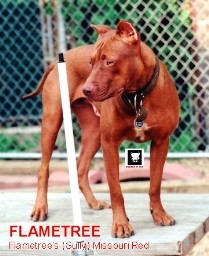 BREEDER: M+R SULLIVAN
OWNER: FLAMETREE KENNELS
REGISTRATION #: ADBA/UKC/AADR Reg.
SEX: FEMALE
COLOR: DARK RED REDNOSE [OFRN]
CHAINWEIGHT: 50 lbs.
BIRTHDATE: 2004-12-09
POSTED: 2005-05-17
LAST MODIFIED: 2011-03-03
PEDIGREE HAS BEEN SEEN: 10281 TIMES

Pure Old Family Rednose,,,,Rest in peace July 14th, 2007. Miss Red's line is carried on in Flametree's Cherokee and Flametree's Chayanne of Liberty Bell Kennels. There are other siblings out there and I hope the decide to breed this line true.