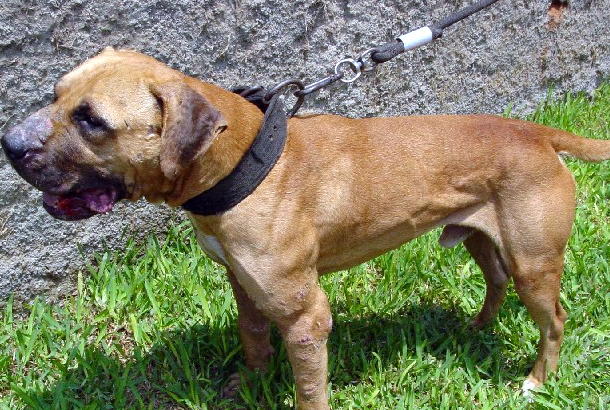 BREEDER: SOUTHERN KENNEL
OWNER: SOUTH AMERICAN KENNEL
SEX: MALE
COLOR: RED & BLACK NOSE
CHAINWEIGHT: 22.000 KG
CONDITIONED WEIGHT: 20.000 KG
POSTED: 2005-02-04
LAST MODIFIED: 2010-12-08
PEDIGREE HAS BEEN SEEN: 71953 TIMES

CH.Luigui, son of GR CH MAYDAY ROM and his dam was XUXA POR, one of the best breedings of the great Mayday, brother of GRCH LUKANE.(different litter).
The first S.D.J CHAMPION on Peru and S.A, he was great at the [ ], on his first hunt, won his 1xw against Ch Mongoose (3XW) (1XL), on his second hunt we travel to Dominican Republic, defeating La Percha 2XW ( the best dog on the island), LUIGUI made CHAMPION, against Rompe Ollas (1XW) (1XL) ,Rompe Ollas made 1xw against a dog handle by J.Stinson and preapared by R.Lemm.
Luigui also was a good producer, offspring's:-Ladrillon (1XW) won agains a Invicto son, -Cross (1XW) against Eli blood.-Chato (2XW) R.I.P who was ready for his CH...Jasson(1XW) won on an international convention against a foreing dog, Vilma (1XW) (on Europe against a daughter of Ch. Bullet), Kapela (1XW) defeat Ch Happy daughter,-Vinchenza DEEP GAME(2XW)(1XDGL), defeat full sister of Ch Bola de fuego and lost VS CH HONDA(3XW)-Tontin (1XGL) against GR Ch Croata (5XW).-Maestro (1XGL) lost on Ecuador against CH Assassin (4XW) showing a lot of game... for now, many winners are coming for sure.