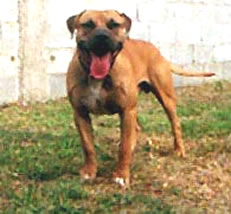 SEX: MALE
COLOR: BUCKSCKIN
POSTED: 2008-08-20
LAST MODIFIED: 2016-03-27
PEDIGREE HAS BEEN SEEN: 16328 TIMES

* * * GREAT PRODUCER * * *


SIRE - Ch SP Kennels' Matraca 3xW (3xBIS & 1xGIS), Ch Red Cloud Kennel's Sadan 3xW/1xD/1xL, SP Kennels' Red Hunter 2xW, SP Kennels' Guri 2xW, Fortes Kennel's Gabriela 1xW, Atitude Kennel's Estrela 1xW (BIS), SP Kennel's Leona 1xW...

Brother of Ch T-Rex Kennel's Blockhead (4xW), Southern kennel's Clyde (ROM), Laz 187'S Lorraine (2xW), REK'S Mayhan (1xW).


! ! ! BEST MAYDAYDOGS OF BRAZIL ! ! !