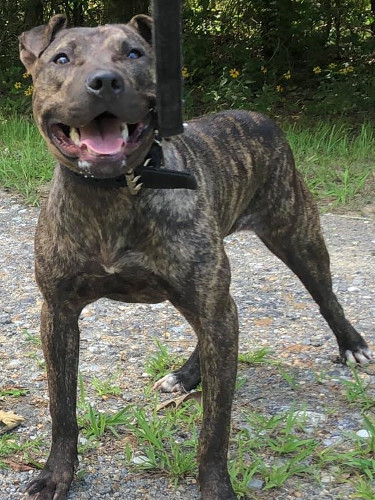 BREEDER: ROBINSON / ASC
OWNER: ROBINSON /ASC
REGISTRATION #: ADBA REG# 15637AP-97
SEX: FEMALE
COLOR: BRINDLE
CHAINWEIGHT: 52
ENTERED BY: ASCAPBT
POSTED: 2018-07-30
LAST MODIFIED: 2023-05-12
PEDIGREE HAS BEEN SEEN: 8407 TIMES

Komodo has been checked and proven to be a highly drive and confident gamedog with solid nerves and great structure. Excellent all around bulldog with great work ethic, a strong desire to please, and excellent hips. She is a product of a full-sibling breeding and is a consistent producer.
The top side of both Lucky 7 and Wonder-Girl is also the product of a full-sibling breeding heavy on the REDBOY-JOCKO-BOLIO-TOMBSTONE blood due to being heavily bred on Gr. Ch. Mayday ROM, Gr Ch Tants Yellow ROM (6xW), Gr Ch STPs Buck ROM (7xW), Ch Deadlift ROM.
The bottom side of Lucky 7 and Wonder-Girl is heavy Crenshaw (JEEP-REDBOY) with Ch. Crenshaws Jeep ROM (4xW) with greats such as Rodriguezs Gator ROM (4xW), Longs Weirdo ROM, Ch. Slim Shady ROM, Ch. Woodalls Weird Jack ROM, Gr. Ch. Crenshaws Black Jack ROM, Peeks Lucky ROM.