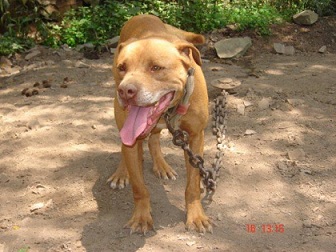 BREEDER: FANIA KNL\'S
OWNER: JOEL PIT KENNEL
SEX: MALE
COLOR: RED/RED NOSE
ENTERED BY: CHLUIGUI
POSTED: 2008-07-09
LAST MODIFIED: 2014-04-12
PEDIGREE HAS BEEN SEEN: 29339 TIMES

A lot of game an excellent blood that has produced multiple winners dog. tattoo is 3 times Chorro (Tants AAA X Tants Insector the best brood bitch in Peru in the late 90s and early 2000s in the hands of PACHACAMAC KENNELS) Insector produce multiple winners like, Pelada (1XW),Olivia (1XW)Sicario (2XW),Chilala (1XW) Fishcakes (1xgl).
Tatoos sire, Chorro has a brother in Brazil (same litter) called Luciano P.O.R.
Tattos brother's Manolo and Cristie lee both are producers of game and mouth dogs.
the first litter of tattoo are crazy and extremly game bulldogs. we are very sure that this will be a producer, as the rest of his family.