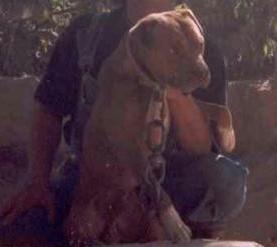 BREEDER: J.MAYFIELD
OWNER: COY
SEX: MALE
COLOR: CHOCOLATE/RED NOSE
CHAINWEIGHT: 42LB
CONDITIONED WEIGHT: 39LB
ENTERED BY: webmaster
POSTED: 2001-04-09
LAST MODIFIED: 2005-03-16
PEDIGREE HAS BEEN SEEN: 23366 TIMES

EMILE WAS BLIND AS A BAT, BUT HE WOULD TEAR INTO YOUR ASS. HE WAS 3 DOGGED. PRODUCED COY'S CH.NEMO (4XW)(2G.I.S), COY'S CH.CHIP, MAD'S BC (2XW-1XL), BIG O'S E3(2XW-1XL) & T&S'S E3 THAT LOST TO GR.CH.SPORT IN 3:06.