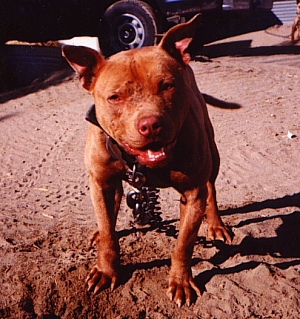 BREEDER: PAT PATRICK
OWNER: VISE-GRIP KENNELS
SEX: FEMALE
COLOR: CHOCOLATE/RED NOSE
CHAINWEIGHT: 27
CONDITIONED WEIGHT: 25
ENTERED BY: SmileWiper
GROUP: bolio
POSTED: 2001-04-09
LAST MODIFIED: 2008-02-17
PEDIGREE HAS BEEN SEEN: 50840 TIMES

ONE OF THE BEST-PRODUCING BOLIO BITCHES OF THE LAST DECADE. BEHIND MORE THAN 60 WINNERS AS DAM TO GREAT-GRANDDAM. A TREMENDOUSLY INTENSE, AND YET TREMENDOUSLY SWEET BITCH.