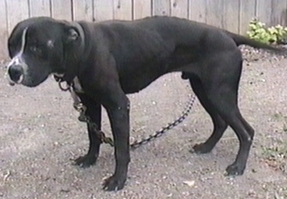 BREEDER: KEITH WILSON
OWNER: C-Gar
SEX: MALE
COLOR: BLACK & WHITE
CONDITIONED WEIGHT: 57 lbs.
BIRTHDATE: 2001-05-06
POSTED: 2003-03-31
LAST MODIFIED: 2012-10-02
PEDIGREE HAS BEEN SEEN: 12656 TIMES

Produced very game dogs: Torpedo 2xw, Victoria 1xw, Hurricane 1xlg, Blitz (a bad bitch) and few others who went to the wrong yards and overdone before maturity. These offsprings and their offsprings fire up early.