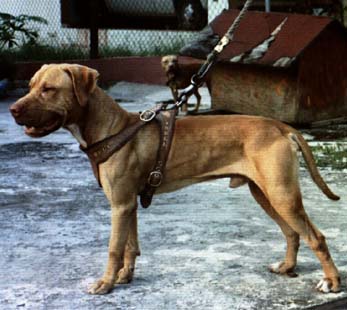 BREEDER: STONE CITY KENNELS
OWNER: STONE CITY KENNELS
REGISTRATION #: 61400C-96
SEX: MALE
COLOR: LIGHT RED/RED NOSE
CHAINWEIGHT: 47
POSTED: 2001-04-09
LAST MODIFIED: 2007-10-24
PEDIGREE HAS BEEN SEEN: 168817 TIMES

NICO lost his bid for Grand Championship to Malik's Gr. Ch. IBM but his bloodline remains... To date he has produced CH. NICO JR., CH. MC.VEIGH, GR.CH. AWESOME BUCK, CH. MISS NICO, LIL RAT(2xW,1xL), HURRICANE(2xW), CHINO(2xW), NICOSON(1xW), SCRATCH(1xW).