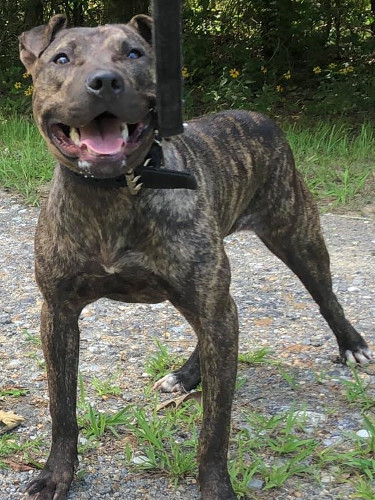 BREEDER: ASC
OWNER: ASC
SEX: FEMALE
COLOR: BLACK BRINDLE
POSTED: 2018-07-30
LAST MODIFIED: 2019-03-17
PEDIGREE HAS BEEN SEEN: 755 TIMES

After evaluating the litter produced by ASC's Lucky 7 x ASC's Wonder-Girl in terms of drive, structure, and confidence, ASC's Komodo proved to be the top prospect in a litter of seven. Now, I refer to her as the top prospect because she is young and still has much to prove, but so far she is proving to be an excellent all around bulldog...with great drives, confidence, nerves, and structure. Her work ethic is looking excellent and her willingness to please is also looking great.

Komodo is out of ASC's Lucky 7 being bred to his litter-mate sister, Wonder-Girl. We did this to not only capture the best of Lucky 7, but to also improve consistency for future breedings. By "bottle-necking" this gene pool this way and then selecting appropriately towards our goals, we are isolating the traits we desire from this foundation. Using the "founder-effect" from this gene pool to build the next generation of stock, we are concentrating these genes in order to maintain a very high consistency for the traits we desire.