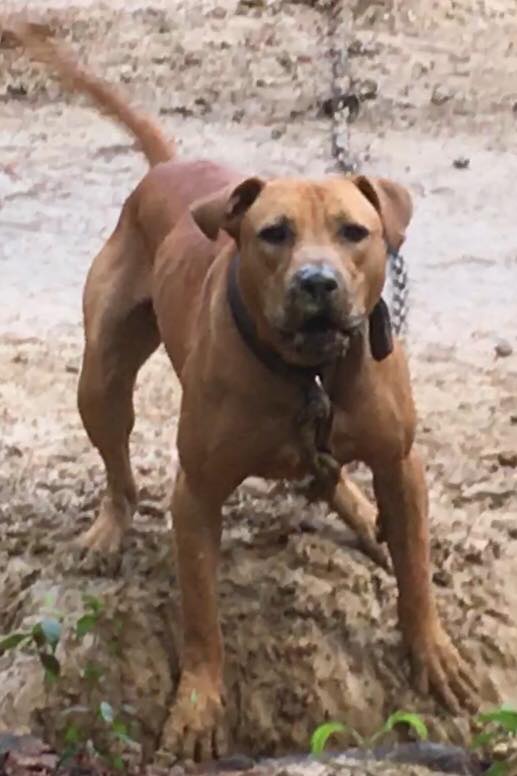 BREEDER: ASC
OWNER: ASC
SEX: MALE
COLOR: RED
CHAINWEIGHT: 71
CONDITIONED WEIGHT: CATCH WEIGHT
BIRTHDATE: 2016-09-06
POSTED: 2016-11-20
LAST MODIFIED: 2019-08-25
PEDIGREE HAS BEEN SEEN: 7698 TIMES

ASC's Lucky 7 is high drive and lives up to the legacy earned by true game dogs, in particular the Redboy/Jocko bred dogs. This phenomenal dog is performance tested, loves to work, has been health screened, is confirmed to have excellent hips, has conformation worthy of being a show dog, and with a mature chain weight of 71# is a rather large specimen that represents the best this bloodline has to offer. He is certainly worth breeding tight on. And to boot, be sure to notice the legacy of ROMs are running through and though Lucky 7's genome.

Solid "Redboy/Jocko/Jeep" dogs on both top and bottom...

TOP SIDE - heavy on Gr. Ch. Mayday (ROM), Ch. Deadlift (ROM), & Travis (ROM).

BOTTOM SIDE - heavy Long's Weirdo (ROM), Ch. Slim Shady (ROM) Ch. Woodall's Weird Jack (ROM), Gr. Ch. Crenshaw's Black Jack (ROM) & Peek's Lucky (ROM).