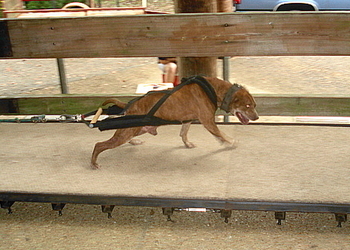 BREEDER: Megabite Knls
OWNER: ABK
REGISTRATION #: ADBA/BFKC/AADR
SEX: MALE
COLOR: Rednosed Red Brindle
CHAINWEIGHT: 50 LBS
POSTED: 2002-02-09
LAST MODIFIED: 2012-04-25
PEDIGREE HAS BEEN SEEN: 21027 TIMES

Thanks both to the Lord & to Megabite Knls for this fine dog! Tiger has a CKC WPRC Level I weight pull title, has an AKC CGC title & is pointed in conformation under both European & American judges. He is also a great family pet & fine bulldog. Tiger is also registered as Turner's Ishmael. The name Ishmael means "God hears."