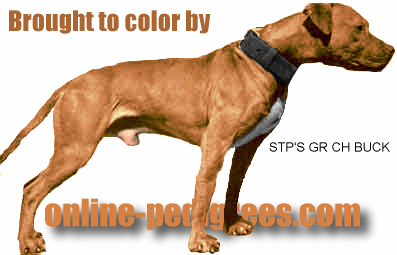 BREEDER: PAT PATRICK
OWNER: S T P
REGISTRATION #: 30100 A - 00
SEX: MALE
COLOR: RED/RED NOSE
CHAINWEIGHT: 58LB
CONDITIONED WEIGHT: 46LB-48LB
POSTED: 2001-04-09
LAST MODIFIED: 2007-10-06
PEDIGREE HAS BEEN SEEN: 611609 TIMES

This is Buck's actual pedigree. This is the ped given by pat patrick himself. The Golden Boy x Red Lady breeding that appears in the adba papers is incorrect.
7xw.....defeated GRAND CH. Sandman in 3.17 Buck is one of the all time pit greats and produced CH. Butkus (ROM), Miss Leakey (ROM), Gr.CH. YellowBuck, Ch. Piggy, Tiverton (ROM), Gr.CH. Buster Brown, Gr.CH. Big Foot, CH. Maggie, CH. BB, and CH. Gina Girl..