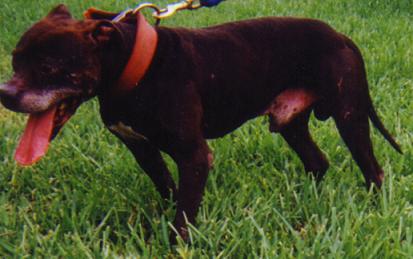 BREEDER: R. BOYLES
OWNER: HORSEMEN KENNELS
REGISTRATION #: 8XXXXD-96
SEX: MALE
COLOR: BLACK
CHAINWEIGHT: NA
CONDITIONED WEIGHT: NA
BIRTHDATE: 1985-08-31
POSTED: 2009-08-08
LAST MODIFIED: 2010-05-17
PEDIGREE HAS BEEN SEEN: 7248 TIMES

We purchased T-Boy from T. Walker, back in Jan. of 93' along with several others including Dirty Red (T-Boy x Mann's Crazy Tippy), Lizzy 2xw (T-Boy x Gina Jet) and Rosita sister to Patrick's Domino. It's funny because I see all these offspring listed and we never bred these dogs outside our yard except when we bred T-Boy to C. Williams' Slinky aka SandPitt's Slinky who produced SandPitt's Handicap and a bitch J.A. the owner of the QUEEN brought down. For the record WCC was the original registered owner (adba) of T-Boy and he transfered registration to us. If you have dogs with any of the above ref. dogs up close in their ancestory there pedigree might be a little suspect. Especially, if they were born after 93' lol. Handicap and J.A's bitch are the only exception. Also, whoever supplied the pedigree for T-Boy has it incorrect (webmaster). "Davis' Classy" should be "Davis' Tassy". Tassy is a daughter of GR CH Boomerang x Davis' Piggy who is a daughter of Bullyson according to the adba. I dont know where Koehler's Scooter came from. T-Boy was 13 yrs. old when he passed away.