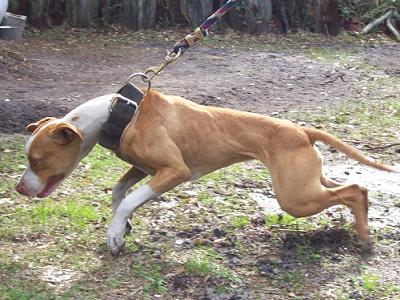 OWNER: AMERICAN LIBERTY
REGISTRATION #: ADBA
SEX: FEMALE
COLOR: RED & WHITE/ RN
CHAINWEIGHT: 42
CONDITIONED WEIGHT: 39
POSTED: 2009-03-06
LAST MODIFIED: 2013-02-22
PEDIGREE HAS BEEN SEEN: 14041 TIMES

heavy Patrick/Tonka and Hemphill/Norrod cross. She is a little Fireball of energy and is showing great. Trouble is off Cedarbrook's Beany 1XW and Nardozzo's Hemphill Ruby. Bred down from CH Tonka Bear ROM, CH Mickel's Beulah, CH Hollingsworth's Pinky 4XW, CH Anderson's Tonka ROM, Patrick's Tombstone ROM, Patrick's Red Baby ROM, Norrod's Hemphill Babe 1XW and CH Norrod's Iron Spike ROM. Smart and Determined. Good with kids.