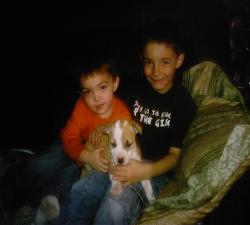 BREEDER: LOUIS COLBY
OWNER: D. PERRY
REGISTRATION #: A.D.B.A. & U.K.C.
SEX: FEMALE
COLOR: RED/WHITE MRKS
CHAINWEIGHT: 28 LBS
BIRTHDATE: 2008-01-31
POSTED: 2008-07-04
LAST MODIFIED: 2009-03-22
PEDIGREE HAS BEEN SEEN: 3864 TIMES

THE DAY I BROUGHT HER HOME.
THANK'S AGAIN LOUIS, FOR THE OPPERTUNITY TO TALK AND PICK OUT BOTH OF MINE!
GLADE TO BE THEIR ON YOUR B-DAY LOUIS BEST WISH'S TO YOU & FAMILY!
SHE WILL BE A BROOD DOG!