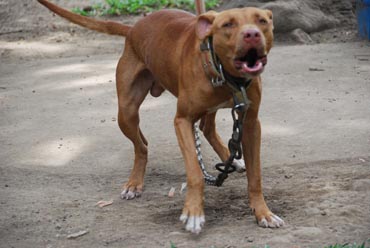 BREEDER: CA
OWNER: CA
SEX: MALE
COLOR: RED WITH RED NOSE
BIRTHDATE: 2007-05-20
POSTED: 2007-11-12
LAST MODIFIED: 2008-04-28
PEDIGREE HAS BEEN SEEN: 639 TIMES

RED LIKE NIGERINO KID, STRONG AND ACTIVE. SUPERIOR GENETICS IN A GOOD SIZED, BIG BONED PUP. GOOD ATTITUDE. ELI-BLACK PAZ BLOOD IN IN A MULTI DIMENSIONAL PACKAGE.