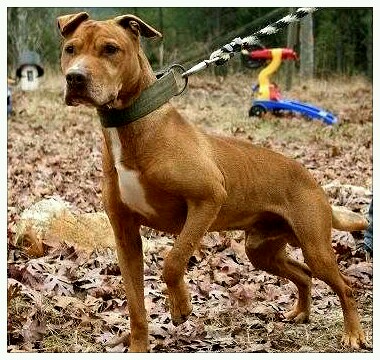 BREEDER: BAD ASS KENNELS
OWNER: HPK
SEX: MALE
COLOR: RED / RED NOSE
CHAINWEIGHT: 52LBS
BIRTHDATE: 1999-02-16
POSTED: 2007-04-29
LAST MODIFIED: 2012-10-04
PEDIGREE HAS BEEN SEEN: 41228 TIMES

As of now, May of 2012, Hansel is still very much alive at the tender age of 13... all credit to his owner, HPK for taking excellent care of him. Hansel was one of my favorite dogs, he was my easiest stud to breed, a real pro at it... sometimes I would have him tied in seconds to a bitch.

Although not breed no where near as often as a few of his famous brothers, CH. WEIRD JACK, CH. BRICK, etc., never the least, this old boy has put some good ones on the planet, with one champion to his credit, Su_Gen's Ch. Gator Mouth Gully, four 2XWs & a few 1XWs... the fat lady ain't done yet singing! Not only is he a helluva producer, but he's a "true bulldog" as well. Unfortunely, Hansel ain't getting any younger, we still plan on doing some natural breedings with him, & if not.. he is on ice!