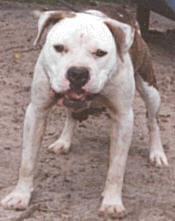 BREEDER: MAD KENNEL
OWNER: SHADY DAY
SEX: MALE
COLOR: WHITE/PATCH BRINDLE
CHAINWEIGHT: 41LB
CONDITIONED WEIGHT: 35LB
POSTED: 2001-04-09
LAST MODIFIED: 2003-06-15
PEDIGREE HAS BEEN SEEN: 5348 TIMES

CLICK HERE TO VISIT MAD KENNELS Lost in a game effort. Lost a long hard one to the Falcon in 2hrs. MAD KENNEL AT 281-932-4919.