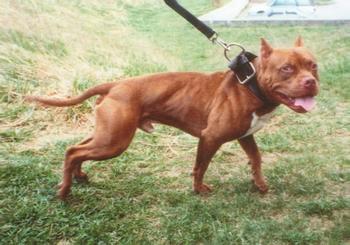 BREEDER: LONZO PRATT SR.
OWNER: R.ARRINGTON
SEX: MALE
COLOR: RED/REDNOSE
CHAINWEIGHT: 44LBS.
CONDITIONED WEIGHT: 41LBS.
BIRTHDATE: 1997-03-27
POSTED: 2001-04-09
LAST MODIFIED: 2003-12-22
PEDIGREE HAS BEEN SEEN: 45156 TIMES

A great old bulldog with drive second to none.Most of his offspring are young so we will see what the future holds for them.