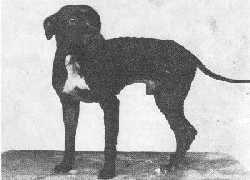 BREEDER: GIBSON
REGISTRATION #: 11700-78
SEX: MALE
COLOR: BLACK
CHAINWEIGHT: 57
CONDITIONED WEIGHT: 49-51
POSTED: 2001-04-09
LAST MODIFIED: 2005-03-02
PEDIGREE HAS BEEN SEEN: 60047 TIMES

LOST TO HOLT'S GRAND CHAMPION BOOGER IN 1:33MIN. GAME. TWO GREAT ONES MET,SOMEBODY HAD TO LOSE. BILLY ALSO BEAT GREENWOOD'S CH BLACK SABBATH IN ANOTHER CLASSIC.