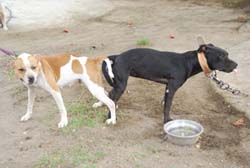 BREEDER: COMBAT ELITE KENNELS
OWNER: CANINE ARSENAL
SEX: FEMALE
COLOR: WHITE WITH RED MARKINGS
BIRTHDATE: 2005-08-15
POSTED: 2006-01-09
LAST MODIFIED: 2007-11-11
PEDIGREE HAS BEEN SEEN: 4563 TIMES

COMBAT ELITE'S HYPO WAS ONE GOOD DOG. UNFORTUNATELY HYPO IS DEAD! ZSA-ZSA IS ONE OF TIM'S BEST BITCHES, OFF NASTY, ONE OF THE BEST GETS OFF BLACK PAZMANIAN. LETS HOPE FOR THE BEST! BIANCA BRED TO NIGERINO KID PRODUCED 5 MONSTER PUPS! BIANCA HAS NOW BEEN BRED TO NEGRO, OUR TIGHT ELI.