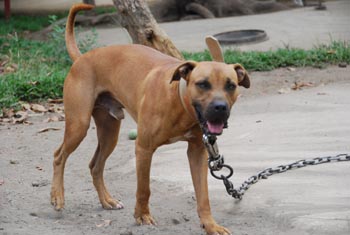 BREEDER: TERRY TOWNSEND
OWNER: CANINE ARSENAL
SEX: MALE
COLOR: RED, BLACK NOSE
BIRTHDATE: 2006-03-13
POSTED: 2006-07-26
LAST MODIFIED: 2007-01-16
PEDIGREE HAS BEEN SEEN: 8236 TIMES

TIGHT BUDWEISER X BLACK BEAUTY, ELI-NIGERINO DOG. DOUBLE BUD (75%), 5X CUJO (43.75%). THE LEGENDARY CH NIGERINO LIVES IN THE ORIENT! Littermate NIGERINA GAL IS ALSO HERE! THE BOUDREAUX MAVERICK/SKULL INFUSION GIVES A BIG KICK TO THE BREW!