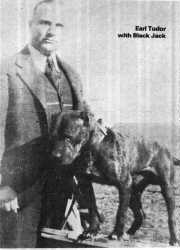 OWNER: TUDOR
REGISTRATION #: ID;3059
SEX: MALE
COLOR: BLK. BNDL.
POSTED: 2001-04-09
LAST MODIFIED: 2003-02-23
PEDIGREE HAS BEEN SEEN: 180475 TIMES

Earl Tudor always named Black Jack as the finest dog he had ever seen. He always won. He was open to whatever was available at any weight. His matches are well substantiated, and everyone whom I ever knew who saw him proclaimed him the best!