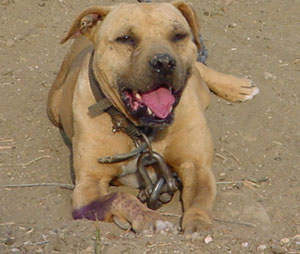 BREEDER: SOUTHERN KENNELS
OWNER: SOUTHERN KENNELS
SEX: MALE
COLOR: BUCKSKIN
POSTED: 2005-05-02
LAST MODIFIED: 2008-02-11
PEDIGREE HAS BEEN SEEN: 93447 TIMES

LITTERMATE BROTHER TO CH. NORIEGA A GREAT BULLDOG SON OFF GR. CH. MAYDAY ROM... BAM BAM HAS PRODUCED GR.CH.YELLOWMAN (5xW), CH.MONGOOSE(3xW,1xLG),LA LOCA (2xW), ZETHA (2xW), SANTANA (2xW) AND MANY OTHERS UNREPORTED YET...