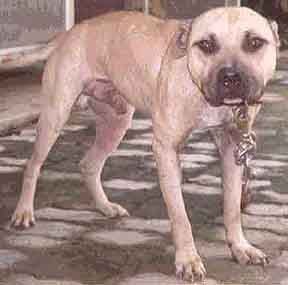 BREEDER: SHAWN B.
OWNER: COSA NOSTRA
SEX: MALE
COLOR: BUCKSKIN
CHAINWEIGHT: 41
CONDITIONED WEIGHT: 37.5
POSTED: 2004-05-08
LAST MODIFIED: 2012-11-13
PEDIGREE HAS BEEN SEEN: 9503 TIMES

AKA - D.W.B.'s Bully Boy and COSA NOSTRA'S Jamuga. A legitimate Gr. Ch. having beaten 2-4XW and 2-2XW. Is now producing good quality dogs such as CH. Cathy Jr. 4XW, Elbert 1XW and Herbie 1XW just to name a few.