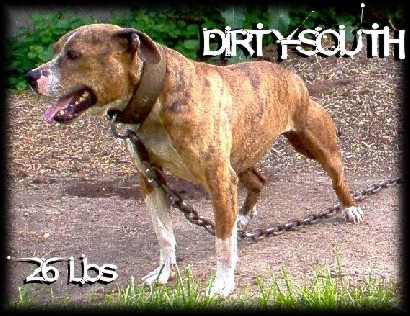 BREEDER: bone yard/ dnd
OWNER: DOWN AND DIRTY
SEX: FEMALE
COLOR: BRIN/WHT
CHAINWEIGHT: 28
CONDITIONED WEIGHT: 26
POSTED: 2004-03-05
LAST MODIFIED: 2018-01-31
PEDIGREE HAS BEEN SEEN: 5281 TIMES

there is a dog listed OFF DIRTY as JESSE- ID- 180027 off of NAUGHTYBOYS MONKEY , this is a lie!! and if it has papers they are HUNG!! dirty was only bred to grunt EVER! THEN DIED IN THE HANDS OF DOWN AND DIRTY KENNEL OWNER!