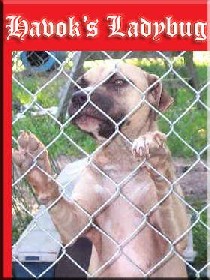 BREEDER: RANDY MOORE
OWNER: Gerry Balboni & HAVOK KENNELS
REGISTRATION #: 31000U-16
SEX: FEMALE
COLOR: BUCKSKIN
CHAINWEIGHT: 43 LBS
CONDITIONED WEIGHT: 39LBS
BIRTHDATE: 2003-01-15
POSTED: 2003-12-08
LAST MODIFIED: 2006-04-19
PEDIGREE HAS BEEN SEEN: 11259 TIMES

This bitch in a couple breedings has put game ass bulldogs that will be out soon, Thaxton knew what he was doing with her. First bred to HAYMAKER ROM, Then my Clyde. Gerry call me man.