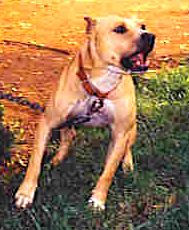 BREEDER: N.AMADOR
OWNER: STAMP
SEX: MALE
COLOR: FAWN-wht markings
CONDITIONED WEIGHT: 52
POSTED: 2001-04-09
LAST MODIFIED: 2005-03-27
PEDIGREE HAS BEEN SEEN: 20817 TIMES

A hard biting and hard shaker. Butch AKA Bubba took the legs out on five different dogs in the hands of different dogmen. All dogs were cared for and saved. One of the few with GrCh Spike and a brother and 8 different offspring from Snooty.