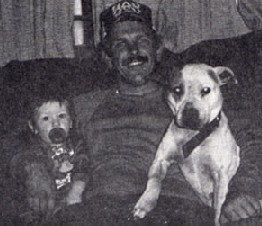 BREEDER: MIKE THIBODEAUX
OWNER: COY
SEX: FEMALE
COLOR: WHITE/BROWN PATCHES
CHAINWEIGHT: 38LB
CONDITIONED WEIGHT: 35-37LB
POSTED: 2001-04-09
LAST MODIFIED: 2005-03-06
PEDIGREE HAS BEEN SEEN: 80774 TIMES

Betty Jo (37 lbs) Lost game to a badass bitch (41 lbs), which had a 4 lb pull in 1 hr:51 mins. Neither dog lived afterwards. 12 Points with 2 GR CH'S, 2 (2X's) & a dead-game bad MF named Cappo, who broke up Curtis' Lowe.